Customer: Concardis
Region: D-A-CH
Number of merchants: 116,000
Challenge: Deliver a merchant-friendly solution that will help meet compliance goals
Solution: Sysnet.air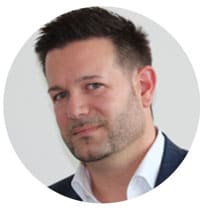 "Engagement and compliance rates are showing positive results and we are confident that through working closely with Sysnet, we will achieve our compliance goals."
Christian Jung, Director Risk Management at Concardis
Sysnet enables Concardis to achieve PCI DSS compliance goals with merchant-friendly solution delivered in record time
Payment solutions that support ambitious customers
Concardis is the leading full service payment provider in German-speaking Europe, acting as a consultant and point of contact for some 116,000 customers with more than 470,000 connected terminals.
Concardis ensures seamless transactions at the point of sale with its fast and convenient payment processes. With innovative solutions in e-commerce and m-commerce as well as for bricks and mortar shops, Concardis helps its customers realise sales across all channels and beyond national borders, allowing them to profit from the growth in international retail business.
Concardis works to increase added value for merchants and consumers through the expansion of its services and the integration of complementary products and services. The importance of data security standards
PCI DSS is the worldwide Payment Card Industry Data Security Standard that was set up to help businesses process card payments securely and reduce card fraud. This is achieved through enforcing tight controls surrounding the storage, transmission and processing of the cardholder data handled by businesses.
PCI DSS is intended to protect sensitive cardholder data, yet the compliance process can be time-consuming and challenging for many smaller businesses. Nonetheless, establishing and maintaining compliance with PCI DSS is key to security and sustainability of businesses. It helps merchants to secure vulnerable assets, prevent financial risks, strengthen customer confidence and last but not least, protect their reputation.
Making it easier to achieve compliance
"We wanted to increase our PCI programme engagement and compliance rates by making it easier for merchants to answer complex technical questions when completing their compliance self-assessments," said Daniela Christoffel, Manager Credit Risk & Fraud Prevention at Concardis. "However, we also wanted to ensure that the accuracy of the self-assessments were maintained so that we could correctly identify and address risk in our merchant portfolio. We also wanted to get our programme in place very quickly, we therefore set strict and demanding deadlines for the new solution to be set up and launched."
Concardis wanted the ability to configure the portal from a risk-based approach. They favoured pre-population of self-assessment questionnaires and a fast-track path for merchants who use particular terminals or products, especially the company's proprietary solutions for e-commerce and mail order/telephone order.
A scalable system was required to ensure fast and easy subsequent expansion of additional profiling paths when needed, for example, through the introduction of new solutions. It was also important that the solution would allow merchants to complete full validation by offering scanning services via the portal. Additionally, downloadable templates would make it easier for merchants to build the required PCI documentation.
Focus on customer support

"To make the process as straightforward as possible, we wanted to provide our merchants with access to an expert call centre via a range of contact channels with appropriate call triage procedures to ensure merchants' queries were resolved quickly and easily." said Christian Jung, Director Risk Management at Concardis.

"With a client base mainly located in the DACH region (Germany, Austria and Switzerland), it was important for Concardis to offer the portal, communication and helpdesk support in multiple languages, initially German and English, and to have an experienced helpdesk team familiar with this market, merchants and local solutions. The company also wanted to provide native German merchant support for all support levels, while maintaining strong English skills. In order to provide this Sysnet partnered with a local German company, SRC.

A demanding merchant migration

Concardis had set a strict and demanding deadline for the new solution to be set up and launched and for migrating existing merchants from the previous platform. One of the priorities was to ensure that existing compliance status details were migrated from the previous platform. Various contractual requirements set by German authorities and auditors also had to be met.

"By using Sysnet.air, we were able to ensure merchants were presented with the appropriate self-assessment questionnaires" said Daniela Christoffel, Manager Credit Risk & Fraud Prevention at Concardis. "Intelligent profiling enabled pre-population of the questionnaires, providing a more user-friendly experience for the merchant. When certain terminals or products are selected the merchant can be fast-tracked through the assessment process."

The highly configurable portal ensures the nuances of specific business types can be more adequately addressed, enabling Concardis to take a risk-based approach to compliance. Sysnet.air has a track record of achieving engagement and compliance rates well above the industry average.

Satisfied customers, shorter compliance journeys

Despite the demanding timelines, the migration was achieved on time, meeting all language requirements. Concardis customers report satisfaction with an intuitive process and appreciate that expert help is available when required. These customers have benefited from a shorter compliance journey through the use of known information provided during profiling.

The risk-based approach to compliance means that where there is greater risk, a more hands-on approach is taken to ensure the merchant's business is protected. Where there is little risk the merchant can be fast-tracked through the compliance process.

"Engagement and compliance rates are showing positive results and we are confident that through working closely with Sysnet, we will achieve our compliance goals," concludes Christian Jung, Director Risk Management at Concardis.

Established in 1989, Sysnet Global Solutions provides payment card industry, cyber security and compliance solutions that help businesses to improve security and acquiring organisations to reduce risk. Specialising in data security and PCI DSS compliance validation solutions, Sysnet offers a range of services, including its award-winning, proprietary, cyber security and compliance management solution Sysnet.air®, to a wide variety of businesses including acquirers, ISOs, international banks, payment service providers and merchants. Headquartered in Dublin, Ireland, Sysnet has clients in more than 55 countries worldwide.